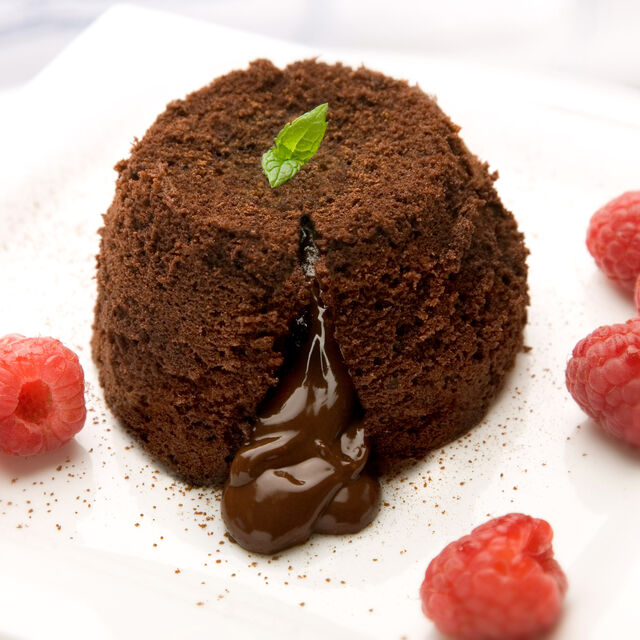 Recipes
Melting Chocolate Pudding
For all chocaholics out there, a sumptuous sponge pudding with a molten chocolate centre – we think it's heaven on a plate. Perfect with fresh raspberries on the side
Ingredients
100g Plain Chocolate
80g Double Cream
125g Butter
125g Caster Sugar
2 Medium free range eggs (beaten)
75g Plain Flour
50g Cocoa Powder
30mls Milk
Follow The Steps
Place the chocolate and double cream in a saucepan and melt gently together over a very low heat – place in the fridge to cool.
Pre-heat the oven to 200deg C
Beat the butter and sugar together until pale & creamy, add the eggs and milk, then gradually fold in the flour and cocoa powder to form a smooth cake mixture.
Grease 6 small ramekin moulds or pudding basins and place 2 teaspoons of the cake mixture into each mould. Form a dip in the centre with the back of the teaspoon then place a teaspoon of the cooled chocolate sauce in the centre of each. Cover with the remaining cake mixture, making sure the cake mixture forms a seal around the chocolate sauce to prevent it leaking.
Place the 6 moulds onto a baking sheet and bake in the pre-heated oven for 10-15 minutes or until the puddings are just springy to touch.
Run a knife around each mould, then carefully tip onto serving plates. Serve immediately with fresh raspberries and cream.