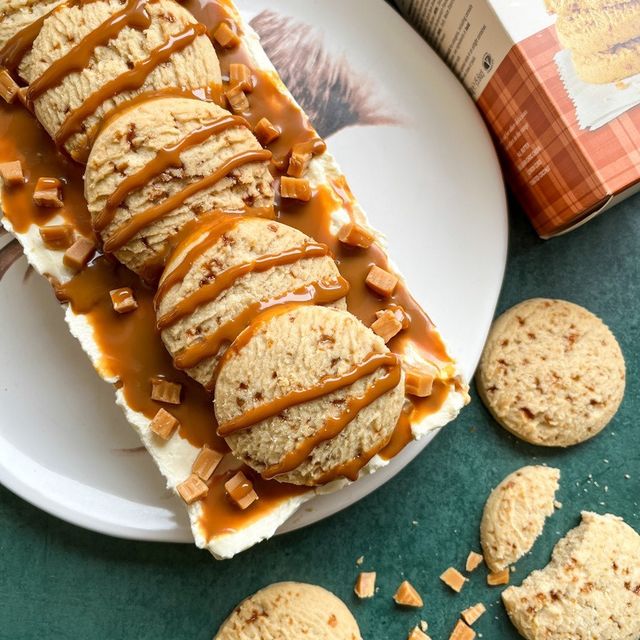 Recipes
Scottish Tablet and Shortbread Cheesecake
This easy no bake cheesecake has a buttery shortbread base and a creamy filling with Scottish tablet pieces. Decorate with Dean's butterscotch shortbread pieces and caramel sauce for a show stopping and delicious dessert!
Follow The Steps
Line a 900g loaf tin with two large pieces of baking paper (overlapping each other) making sure the paper is higher than the top of the tin so you can lift the cheesecake out later.
Place the shortbread in a food processor and pulse until you have fine crumbs. Melt the butter in a small pan, then pour into the processor with the shortbread and pulse until the mixture resembles damp sand.
Press the crushed shortbread into the base of the lined tin. Press down firmly and evenly, then place in the fridge to firm up.
Using an electric mixer, lightly beat the cream cheese until softened, then stir in the icing sugar and vanilla extract.
In a separate bowl, whip the double cream to soft peaks. Fold the cream into the cream cheese mixture, then fold in the finely chopped tablet.
Pour the cheesecake mixture in the tin over the base. Cover the whole tin with a layer of cling film and refrigerate for 5-6 or overnight.
When you're ready to serve the cheesecake, lift it out of the tin using the pieces of baking paper. Place on a plate and carefully peel off the paper. Decorate the cheesecake with butterscotch shortbread, caramel sauce and the tablet pieces.
Recipe created by Nickki Thompson, Something Sweet Something Savoury
Buy The Products Used
Now you have the knowledge, shop the items that make it a reality