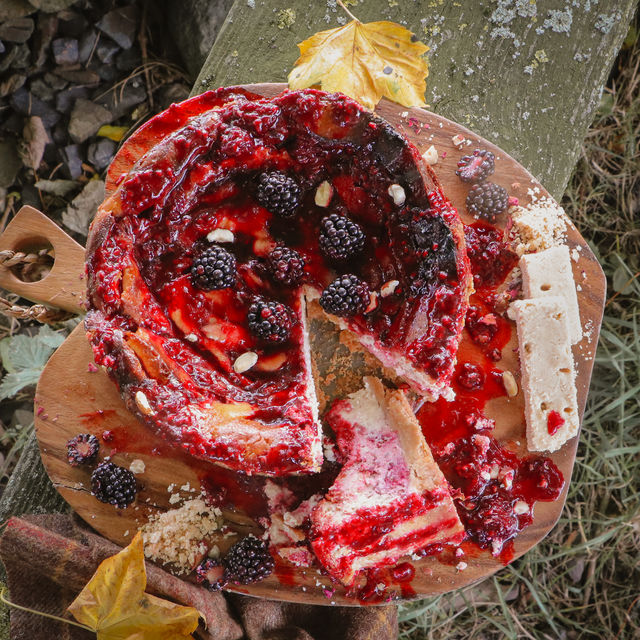 Recipes
Blackberry Shortbread Cheesecake
This creamy cheesecake swirled with fresh blackberry sauce is baked on top of a lovely buttery shortbread base using our traditional shortbread fingers. This is a perfect weekend recipe in the Autumn months.
300g Dean's Shortbread Fingers (2 packs)
115g Melted Butter
250g Blackberries
1/2 Lemon Juiced
175g Caster Sugar
600g Full Fat Soft Cheese
3 Large Eggs plus 2 Egg Yolks
175g Double Cream
1tbsp Vanilla Bean Paste
Follow The Steps
Preheat the oven to 160C and grease up a medium sized cake tin (approx 7inches).
Crush the shortbread fingers with a rolling pin. Add in the melted butter and pack into a greased cake tin. Leave to cool in the fridge.
Add the blackberries, lemon juice and caster sugar into a small pan and melt down until the sugar is combined (approx 5 mins on a medium heat). Mash with a potato masher. Set aside to cool.
Combine the full fat soft cheese, 3 eggs and 2 egg yolks with the double cream and vanilla. Mix together well and pour into the cake tin with the chilled shortbread base. Swirl approx half of the blackberry mixture on the top of the cheesecake and swirl through with a pin or a fork to create a nice pattern.
Bake the cheesecake in the oven for approx 1hr 15-30minutes. It should still be slightly wobbly on the top and thats ok. Leave to cool completely on the counter and pop in the fridge to complete the cooling.
Top with the remaining blackberry sauce and additional blackberries if you wish. Serve in slices with cream or on its own.
Recipe created by Angie Milne, The Wee Larder
Buy The Products Used
Now you have the knowledge, shop the items that make it a reality