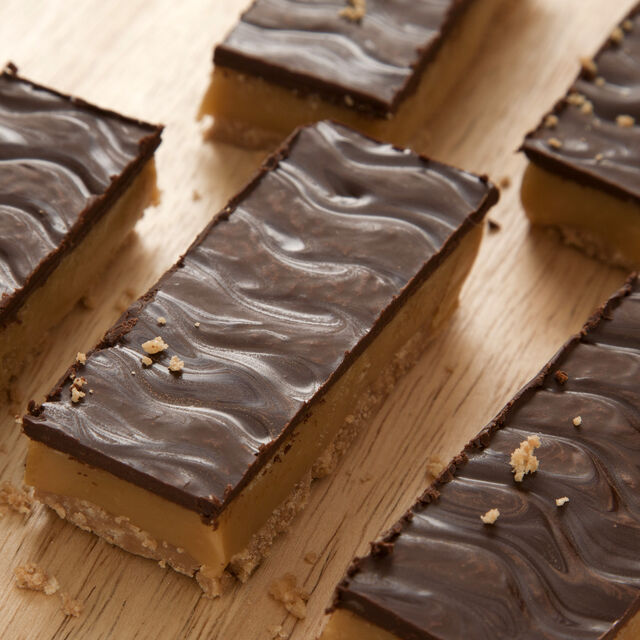 Recipes
Caramel Shortbread
Caramel shortbread, an old favourite!  We made ours with a crumb base, but if you have a favourite shortbread recipe that will also work perfectly.
Ingredients
200g Dean's shortbread, made into crumbs (or any sweet biscuit crumbs)
25g butter
25g milk chocolate
For the caramel:
1 x 397g can condensed milk
150g soft dark brown sugar
150g butter
25g (or 1 tbsp) golden syrup
To finish:
150g dark or milk chocolate, broken into pieces
Follow The Steps
Start by preparing the base by melting the butter and chocolate gently in a saucepan, over a low heat.
Add the shortbread crumbs and mix well.
Press evenly into a 20 x 30cm baking tray and leave to cool.
For the caramel:
Place the butter, brown sugar and golden syrup into a heavy based saucepan and melt over a gentle heat until the sugar is dissolved.
Add the condensed milk and stir continuously until the caramel comes to a gentle boil - continue to simmer for 3 minutes.
Pour the hot caramel over the crumb base and smooth over the top - allow to cool.
To finish, melt the chocolate gently in the microwave or in a bowl over a pan of hot (not boiling) water.
Spread the melted chocolate over the cooled caramel and leave to set completely.
Cut into squares or fingers to serve.