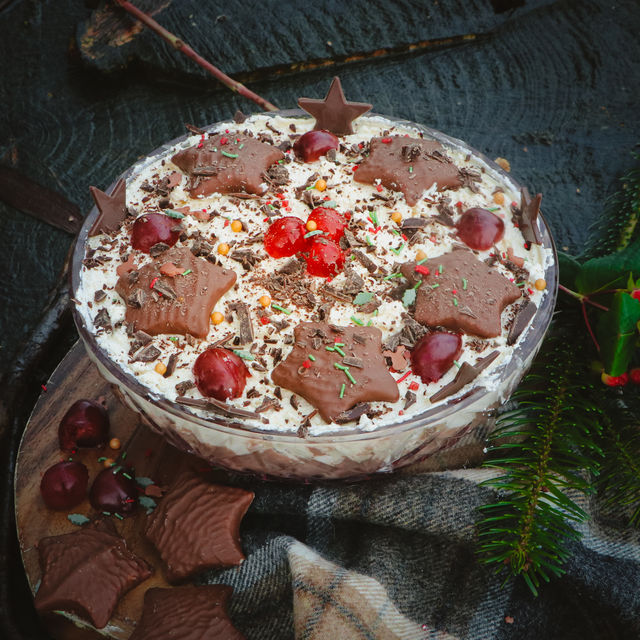 Recipes
Christmas Chocolate & Cherry Trifle
This chocolate and cherry trifle is so easy to make and looks impressive on the Christmas dinner table.
The ingredient quantities in this easy recipe are pretty loose as it depends on the size of the bowl you have. Below is a rough idea of the measurements we used.
6-8 Dean's Belgian Choc Chunk Shortbread Rounds
1 pack of raspberry or strawberry jelly
1 can of cherries in juice
1 tin of chocolate custard
1 large carton of double cream
1 pack of Dean's Chocolatey Shortbread Stars
Optional extras - glace cherries, Christmas sprinkles, chocolate and chocolate stars to decorate.
Follow The Steps
Break up the choc chunk shortbread rounds into chunks and place in the bottom of the trifle bowl. Add some cherries to the top of the shortbreads. Slice them up if you wish. Make up the jelly according to the packet instructions and pour enough jelly over the broken shortbread and cherries. Leave to set in the fridge.
Pour over enough chocolate custard to create the next layer. Whip up the double cream in a bowl until stiff and carefully dollop or pipe on the top of the trifle. Smooth using a knife if necessary and decorate with the chocolatey shortbread stars and remaining tinned cherries. You can also grate over a little chocolate and add sprinkles to the top of the trifle.
Serve immediately or pop in the fridge to chill.
You could also use plain custard and other tinned fruits in this recipe. We hope you enjoy it and feel inspired to make your own Chocolate & Cherry Trifle this Christmas.
Recipe created by Angie Milne, The Wee Larder
Buy The Products Used
Now you have the knowledge, shop the items that make it a reality