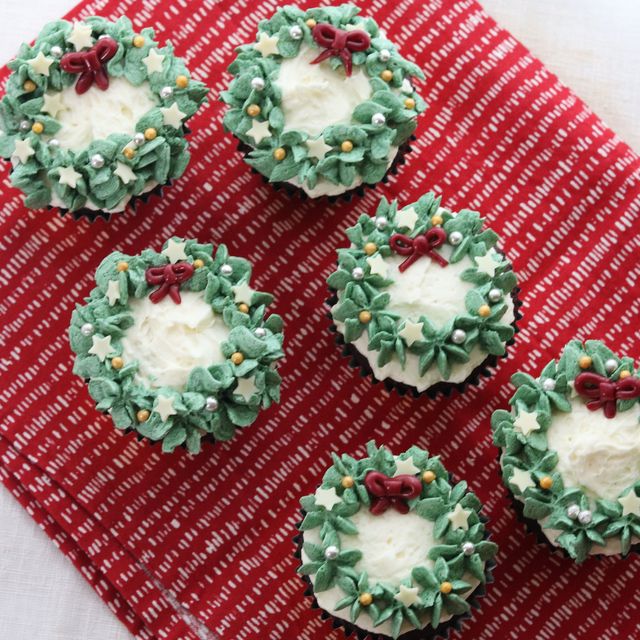 Recipes
Christmas Wreath Cupcakes
Perfect for a Christmas bake sale or to leave out for Santa! Try our deliciously festive spiced chocolate cupcakes.
Ingredients:
120g buttermilk
110mls vegetable oil
120mls cold coffee
1 medium egg
140g plain flour
185g caster sugar
35g cocoa powder
1/2 teaspoon bicarbonate of soda
1/4 teaspoon ground ginger
1/4 teaspoon ground cinnamon
1/4 teaspoon ground nutmeg
1/4 teaspoon ground cloves
1/4 teaspoon salt
To decorate:
225g soft unsalted butter
510g icing sugar
5-8 tablepoons milk
1 tablespoon vanilla paste
Green food colouring paste
Red fondant icing & festive sprinkles to finish
Follow The Steps
Preheat oven to 170degC / 150degC fan and line a muffin pan with cupcake liners.
Whisk together the buttermilk, oil, coffee and egg then set to one side. Sift together the flour, sugar, cocoa powder, bicarbonate of soda, spices and salt into a large bowl. Pour the wet mixture over the dry and whisk together until well combined.
Transfer the cake batter into a jug and evenly pour into the cupcake cases. Bake for 20-25 minutes until a skewer inserted into the middle comes out clean. Leave to cool in the tin for 10 minutes, before removing the cakes and cooling them completely on a wire rack.
To make the buttercream, place the butter in the bowl of a stand mixer or large bowl if using a handheld whisk, then beat on high for around 5 minutes until fluffy and pale in colour. Add half the icing sugar and beat until smooth, then add the remaining icing sugar with a few tablespoons of milk and vanilla paste. Beat until smooth, adding a little more milk if the buttercream seems too stiff.
Once the cakes have cooled completely, dollop a large tablespoon of the icing on top of each cupcake and smooth to the edges with a palette knife or back of a spoon. Once you have iced all 12 cupcakes, colour the remaining buttercream with the green food colouring paste to a deep forest green. Scoop the green icing into a piping bag fitted with a closed star-shaped nozzle then pipe small stars around the edge of each cupcake to look like leaves.
To decorate, roll long thin strips of fondant icing and form into bows. Place on top of the piped leaves then decorate the rest of the wreaths with sprinkles such as silver and gold balls and chocolate stars. Keep the cupcakes sealed in an airtight container for up to three days.
Makes 12