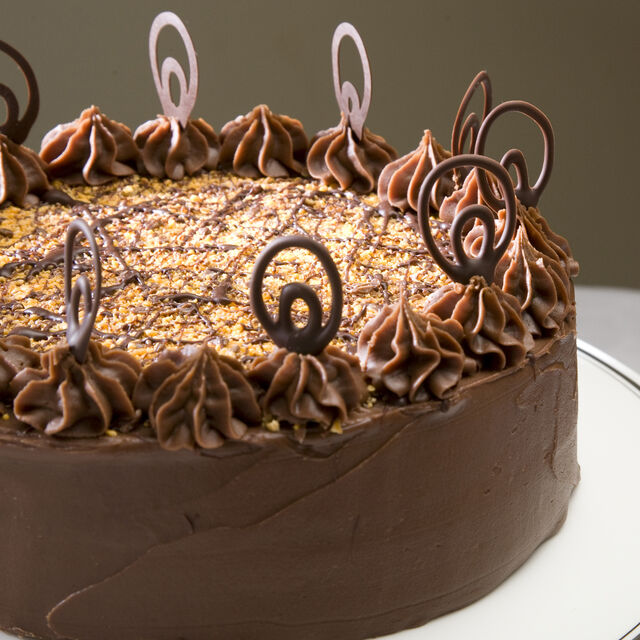 Recipes
Festive Chocolate Orange Cake
Searching for the perfect dessert to impress your guests this Christmas? How about our very special chocolate orange cake - rich & delicious, the perfect finish to your festive feast.
Ingredients
175g unsalted butter, softened
175g plain flour
175g caster sugar
1 tsp baking powder
1/2 tsp bicarbonate of soda
30g cocoa powder
2 large free-range eggs
2 tsp Cointreau (or other orange liqueur)
150mls soured cream
For the chocolate ganache:
75g unsalted butter, softened
200g orange flavoured dark chocolate (we used Green & Black's Maya Gold)
1 tbsp golden syrup
130mls soured cream
2 tsp Cointreau
275g icing sugar, sieved
1 small orange Aero bar
Follow The Steps
Pre-heat the oven to 180degC. Lightly oil and base line two 20cm sandwich tins
Cream together the softened butter with the caster sugar and Cointreau, until light and fluffy.
Add the eggs and soured cream followed by the flour, baking powder, bicarbonate of soda and cocoa powder - mix to form a smooth, thick batter.
Divide the mixture equally between the two prepared tins and bake for 30-35 minutes or until springy on the top surface when lightly pressed.
Leave to cool in the tins for about 10 minutes before turning out onto a wire rack to cool completely.
To make the ganache icing -
melt the butter and 150g of the chocolate - leave to cool for a few minutes before adding the golden syrup, Cointreau and soured cream - mix well.
Add the icing sugar and mix until smooth and glossy.
Use about 3/4 of the ganache icing to sandwich the two cakes together and to cover smoothly the top & sides.
Finely grate the orange Aero and sprinkle evenly over the top surface of the cake.
Melt the remaining 50g of chocolate and use to drizzle over the top of the cake, then finish by piping swirls of the remaining ganache icing around the outer edge.
Add a final decorative touch with the addition of some delicate chocolate shapes.