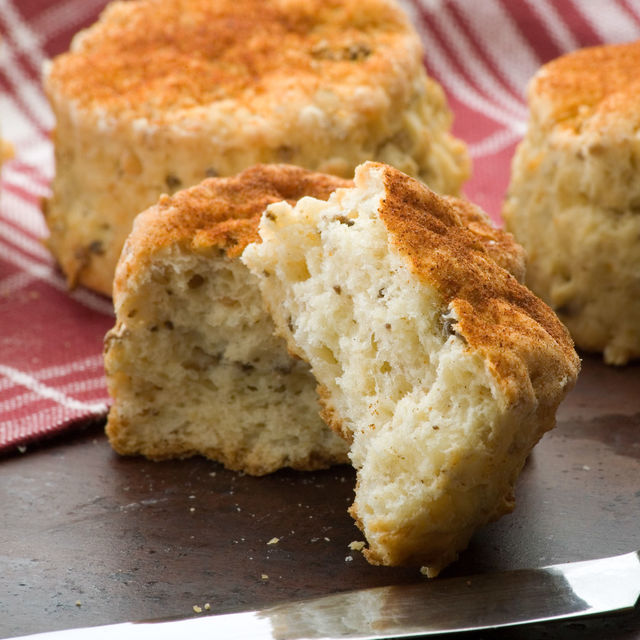 Recipes
Haggis & Cheese Scones
A delicious way to use up any leftover haggis.
450g Self Raising Flour
100g Butter
140g Haggis - cooked & cooled
140g Mature Cheddar Cheese - grated
1/2 tsp Paprika
2 tsp Baking Powder
2 Medium Free Range Eggs
A Little Milk
Salt & Freshly Ground Black Pepper
Follow The Steps
Pre-heat the oven to 220degC.
Place the flour into a mixing bowl – rub in the butter until fine crumbs form. Stir in the haggis, grated cheese, paprika, baking powder, salt & pepper, making sure the haggis is broken down evenly through the mix.
Beat the eggs in a measuring jug and make up to 300mls with milk. Pour into the dry mix and mix together until a soft dough forms.
Turn out onto a floured surface & knead very lightly, just until the dough comes together. Roll out to a thickness of 2-3 cm and cut into large fluted rounds (6cm approx), place on a baking tray. Bring all the scraps together, roll out again and cut further rounds. Continue until all the dough is used.
Dust the top of each scone with a little paprika before baking in the pre-heated oven for 10-12 minutes or until risen and golden. Remove to a wire rack to cool slightly before serving.
These are wonderful served warm, spread with butter or cream cheese, or try serving with a bowl of hot soup.