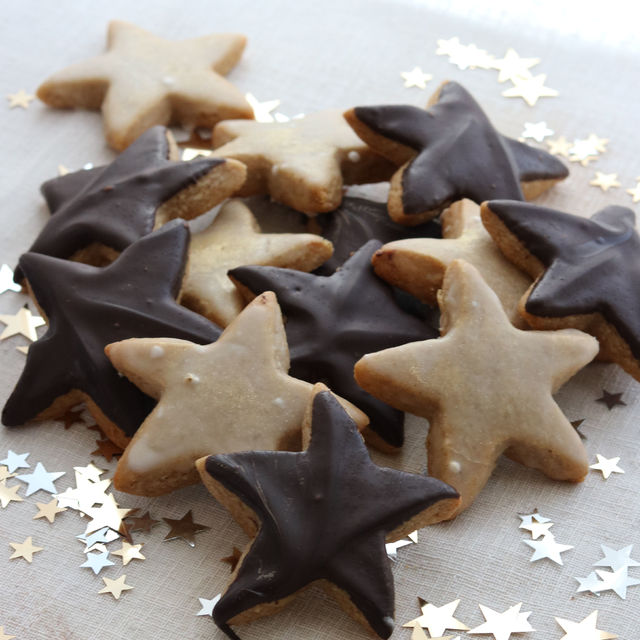 Recipes
Lebkuchen Stars
These German spiced biscuits are a great festive treat for kids to bake in the run-up to Christmas!
Ingredients:
200g clear honey
85g unsalted butter
250g plain flour
85g ground almonds
1 tsp baking powder
½ tsp bicarbonate of soda
2 tsp ground ginger
1 tsp ground cinnamon
¼ tsp nutmeg
⅛ tsp ground cloves
⅛ tsp ground black pepper
Zest of ½ an orange
To decorate:
70g icing sugar
2 tbsp boiling water
100g dark chocolate, chopped
Follow The Steps
In a saucepan set over a medium heat, melt the honey and butter together until smooth. Set to one side and whisk together the remaining dry ingredients in a bowl.
Make a well in the centre and pour in the honey and butter mix along with the orange zest then stir to a sticky dough. Cover the bowl with clingfilm and chill for 1 hour.
When you're ready to make the biscuits, preheat the oven to 180oc/160oc fan and line two baking trays with greaseproof paper. Dust a work surface with flour and turn out the dough, rolling to 1cm thick.
Using a star cutter, cut as many shapes as you can from the dough, rerolling the scraps. Arrange the lebkuchen on the trays and bake in the oven for 10 to 15 minutes, until the biscuits are dry to the touch and lightly golden around the edges. Remove from the oven and cool on the trays briefly before transferring to a wire rack to cool completely.
To decorate, whisk the water into the icing sugar to make a runny glaze. Dip half the stars in the icing then leave to set. For the remaining biscuits, melt the chocolate in a microwave in 1 minute bursts until smooth, then dip in the biscuits to coat.
Leave the lebkuchen to set completely before eating.
Makes 25 small stars.