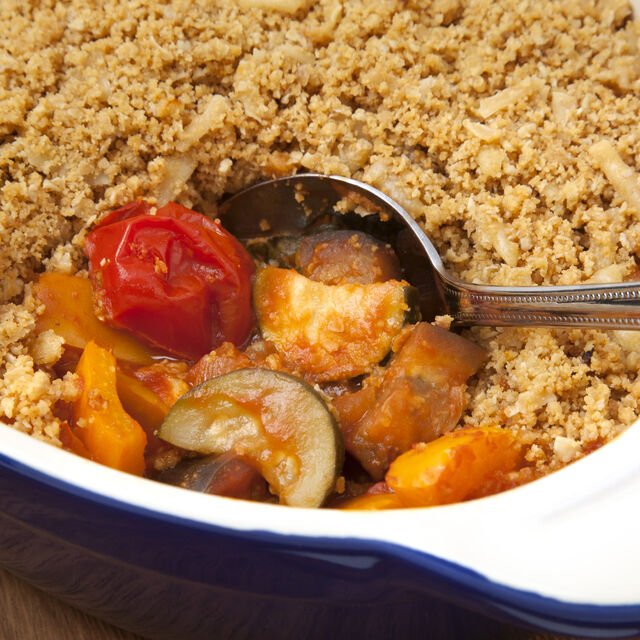 Recipes
Ratatouille Gratin
A simple but delicious veggie gratin topped with breadcrumbs or crumbled oatcakes.  Use a mix of whatever vegetables you've got. Delicious on it's own or as a vegetable side dish. Root vegetables such as parsnips or carrots also work well in this recipe, however they take longer to cook so par-boil them first.
1 tbsp olive oil
1 onion, peeled & chopped
1 large garlic clove, peeled & crushed
1 small aubergine, chopped into chunks
1 courgette, sliced
1 yellow pepper, de-seeded and cut into chunks
130g cherry tomatoes, halved
2-3 tbsp tomato puree
300mls passata (sieved tomatoes)
1 Knorr vegetable 'stock pot' (or 1 tsp vegetable stock powder)
a handful of basil leaves, roughly torn
a little sea salt & freshly ground black pepper
Some grated cheddar mixed with breadcrumbs or crumbled oatcakes to finish
Follow The Steps
Pre-heat the oven to 150degC.
Heat the oil in a large saute pan. Add the chopped onion and cook for 2-3 minutes until starting to soften. Add the crushed garlic and cook for a further minute.
Add the aubergine, courgette and yellow pepper to the pan - continue cooking for a couple of minutes. Next, add the tomato puree and stir through.
Pour in the passata along with the vegetable 'stock pot' or powder. Stir well then turn the heat down to a gentle simmer - cover with a lid and leave to cook for around 15 minutes or until the vegetables are tender. Stir from time to time to prevent sticking.
Finally, stir through the halved cherry tomatoes and the torn basil leaves and check the seasoning. Transfer the hot vegetable mix to an ovenproof gratin dish.
Mix together the grated cheddar cheese and breadcrumbs or crumbled oatcakes. Sprinkle evenly over the top.
Bake for around 20 minutes or until golden and bubbling.