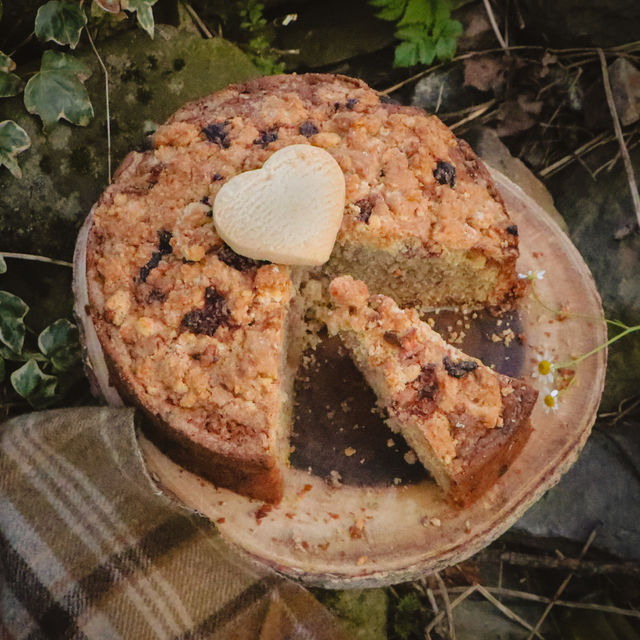 Recipes
Rhubarb Shortbread Crumble Cake
If you enjoy a good fruity crumble, you will love this delicious Rhubarb Shortbread Crumble Cake. It's so moist and delicious with fresh Spring rhubarb and the Lemon Shortbread Crumble topping creates a lovely crispy topping to the cake. You'll also find pieces of juicy rhubarb throughout the sponge and you can swap out the rhubarb with other seasonally available fruits to suit the season you are in.
250g Butter
250g Caster Sugar
2tsp Almond Extract
5 Eggs
300g Self Raising Flour
7 Dean's Lemon Shortbread Hearts
250g Rhubarb - sliced thin
1-2tbsp Caster Sugar
Follow The Steps
Preheat the oven to 160C (fan) and grease up a medium cake tin.
Cream the butter and the sugar together in a large mixing bowl.
Add in the almond extract and the eggs and beat through well.
Add in the flour a little at a time and slowly mix through to create a cake batter.
Remove 80g of the cake batter and place in a bowl.
Crumble the lemon shortbread hearts into the 80g of cake batter and mix through.
Fold the rhubarb into the cake batter and pour into the prepared cake tin.
Spoon the crumbled shortbread mixture on top of the cake and sprinkle with 1-2tbsp of caster sugar.
Bake in the oven for 1 hour and 15-30minutes. Check a cake pin comes out clean from the cake when ready. If it's still sticky give it another 15 minutes.
Serve with whipped cream or custard.
You can also try swapping out the rhubarb for other seasonal fruits or add in a sprinkle of white chocolate too.
Recipe created by Angie Milne, The Wee Larder
Buy The Products Used
Now you have the knowledge, shop the items that make it a reality