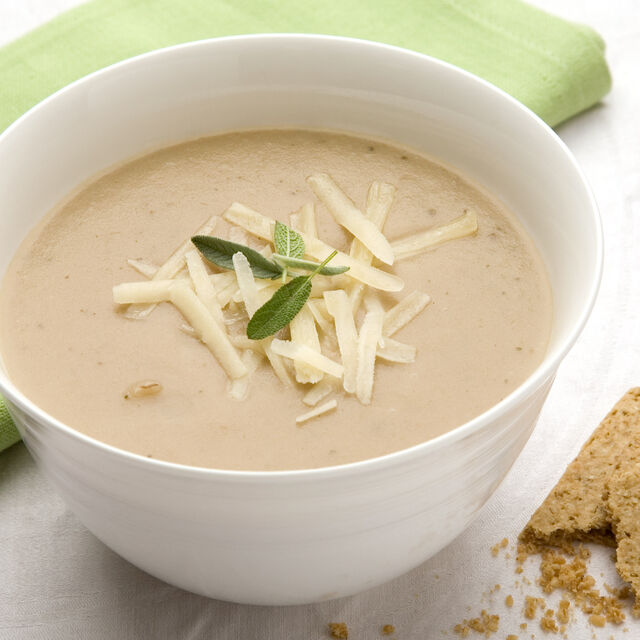 Recipes
Roasted Potato & Red Onion Soup
Roasting the vegetables before making into soup creates a more intense flavour. This is potato soup like you've never tasted before, delicious served with crusty bread or oatcakes.
Ingredients
1kg potatoes, peeled & cut into big chunks
2 large red onions, peeled & cut into big chunks
2 tbsp Olive oil, Salt & Pepper
1 litre hot vegetable stock
300 mls milk
a few fresh sage leaves, or a teaspoon dried sage
a little Parmesan Cheese
a few extra sage leaves (optional)
Follow The Steps
Pre-heat the oven to 200degC.
Place the chunks of potato & red onion into a large roasting tin – drizzle over the olive oil. Season with salt & pepper.
Place in the pre-heated oven for about 15 minutes then remove and turn the vegetables to ensure even cooking,
Scatter over the sage leaves then return to the oven for a further 15 minutes or until the potatoes are tender and starting to brown.
Remove from the oven and tip the contents of the roasting tin into a large saucepan.
Add the hot stock to the pan then bring to the boil and simmer gently for 15 minutes. Liquidise in batches or blend in the pan to a smooth consistency using a stick blender. Stir in the milk and bring back to a gentle simmer. Check the seasoning.
Serve in warmed bowls with a little parmesan cheese and/or extra sage leaves sprinkled over.