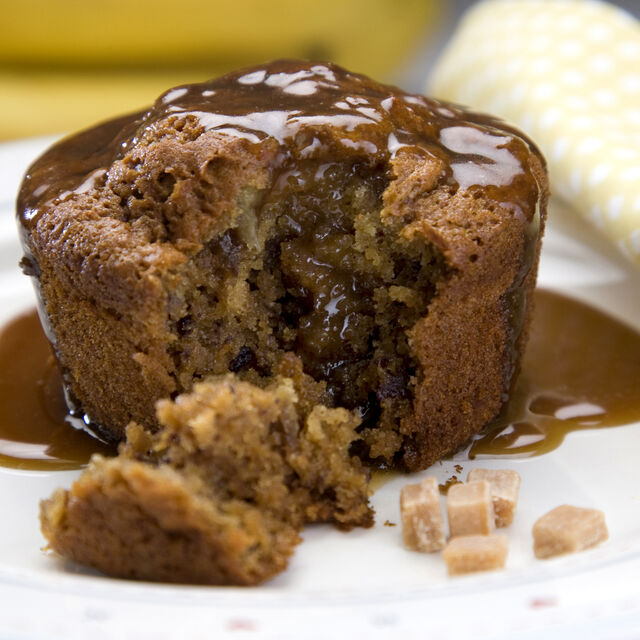 Recipes
Sticky Toffee & Banana Pudding
A deliciously comforting pudding combining toffee & banana - add a little whipped cream on the side for an extra indulgence!
Ingredients
50g butter
75g soft brown sugar
2 medium free-range eggs, beaten
100g self raising flour
1 small ripe banana, mashed
1/2 tsp bicarbonate of soda
90g chopped dates
150mls boiling water
1/2 tsp vanilla extract
20g toffee or fudge pieces
For the sauce:
15g butter
50g light brown sugar
50g dark muscovado sugar
150mls fresh double cream
1/2 tsp vanilla extract


Follow The Steps
Pre-heat the oven to 180degC.
Place the dates and bicarbonate of soda into a bowl with the boiling water - leave to one side to cool slightly.
Cream the butter, sugar and vanilla extract together until light and fluffy. Add the beaten egg and flour a little at a time until well mixed, then gradually add the soaked dates with their liquid, mixing well between each addition. Finally add the toffee or fudge pieces and mashed banana and mix through.
Divide the mixture evenly between 6 well buttered ramekins or mini pudding basins (each should only be about half full).
Place in the pre-heated oven for around 30 – 35 minutes or until just firm when pressed lightly in the centre. To make the sauce melt the butter, both sugars, vanilla extract and cream, stirring until the sugar has melted, then bring to the boil. Remove from the heat.
Turn out the puddings onto serving plates and serve with the warm toffee sauce poured over.