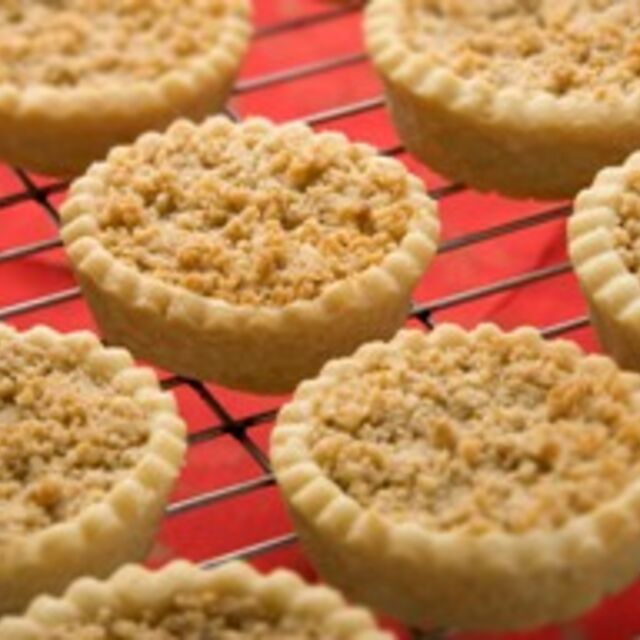 Recipes
Streusel Topped Mincemeat Pies
Nothing smells more like Christmas than the wonderful aroma of mincemeat pies baking in the oven. Serve warm with a glass of mulled wine.
Ingredients
230g Plain flour
140g Block margarine or butter
1tbsp Caster sugar
1tbsp Hot water
200g Dean's shortbread made into crumbs
50g Butter
1tsp Ground cinnamon
75g Ground almonds
1 jar good quality mincemeat
Follow The Steps
Start by making the pastry by blending the margarine (or butter) and flour together in a food processor until fine crumbs form. Dissolve the sugar in the hot water and add to the processor. Blend again until the mixture all comes together.
Remove the pastry from the processor, wrap and chill for about 1 hour.
Meanwhile, to make the streusel topping, melt the butter in a saucepan, add the other ingredients and stir until well combined. Leave to one side.
Pre-heat the oven to 180degC.
Roll out the chilled pastry quite thinly on a floured surface. Cut out fluted rounds and use to line the holes of a patty tin.
Add a teaspoon of mincemeat to each then top with just enough streusel mixture to cover the mincemeat.
Place in the pre-heated oven and bake for 18-20 minutes or until the streusel topping is golden brown and the mincemeat just starting to bubble up at the edges.
Remove from the oven and gently remove the pies to a wire rack to cool.
Sprinkle lightly with icing sugar before serving.
Buy The Products Used
Now you have the knowledge, shop the items that make it a reality