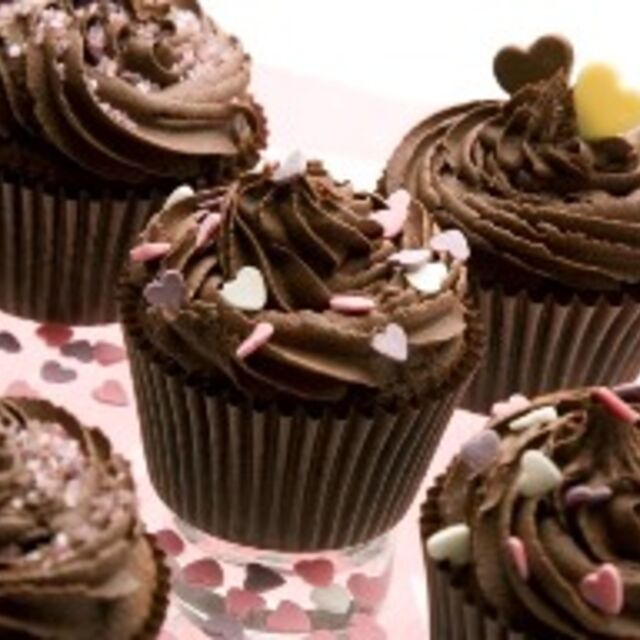 Recipes
Valentine's Chocolate Cupcakes
The ultimate chocolate cupcake with sprinkles of course...
Ingredients
100g Butter, at room temperature
100g Caster sugar
100g Self raising flour, sieved
1 tsp Baking powder
25g Cocoa powder
1 tsp Vanilla extract
1 tsp Syrup
3 tsp Hot water
2 Eggs, medium free-range
For the icing:
100g Butter, at room temperature
200g Icing sugar
40g Cocoa powder
1 tsp Vanilla extract
3-4 tbsp Hot milk
sprinkles (optional)
Follow The Steps
Cream the butter, caster sugar, cocoa powder, syrup and vanilla extract until light and fluffy.
Beat in the eggs one at a time, and fold in the sifted flour and baking powder. Lastly add the hot water and mix well.
Spoon the mixture into cup cake cases – half fill only to allow room to rise. Bake the cakes at 190 deg. C for about 15 minutes, or until the cakes are well risen and spring back when pressed gently in the centre.
Remove from the oven and allow to cool completely on a wire rack.
To prepare other elements:
Beat the butter, cocoa powder, vanilla extract and hot milk together. Add the icing sugar a little at a time until smooth & evenly blended.
Spoon the icing into an icing bag fitted with a small star nozzle. Decorate each cake with a swirl of icing then finish with mini chocolate hearts or sprinkles.