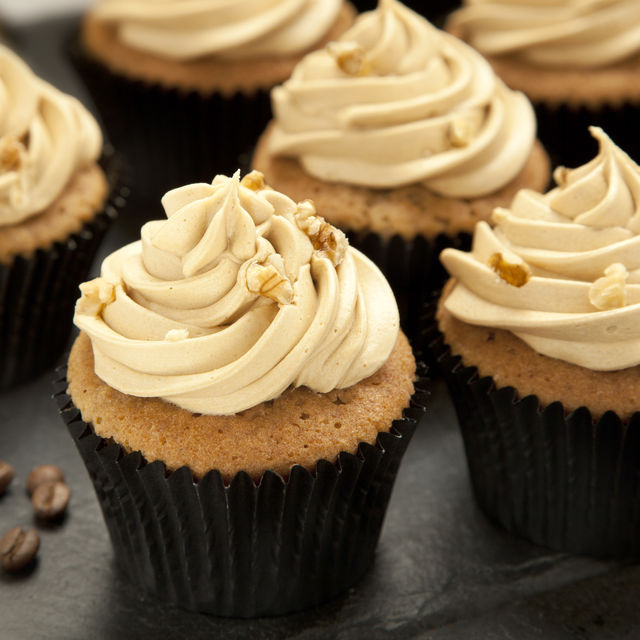 Recipes
Coffee & Walnut Cupcakes
Why not bake a batch of our very pretty Coffee & Walnut Cupcakes, they taste just as good as they look. We have got the best results by weighing the eggs first in their shells, then using the same weight of sugar, flour, and margarine. This way it doesn't matter if egg size varies, you still get great results.
Ingredients
3 large free range eggs, weighed in their shells (ours weighed 205g)
205g soft margarine
205g caster sugar
205g self-raising flour
½ teaspoon baking powder
50g chopped walnuts
2 teaspoons instant coffee dissolved in 2 teaspoons boiling water, cooled
For the buttercream frosting:
200g icing sugar, sieved
100g soft margarine
2 teaspoons instant coffee dissolved in 2 teaspoons boiling water, then cooled
Follow The Steps
Line a large 12 cup muffin tin with paper liners. Preheat the oven to 170degC
Break the eggs into a mixing bowl then add in the sugar, soft margarine, self-raising flour, baking powder, and cooled coffee. Using an electric whisk beat all the ingredients together to from a smooth batter, about 2 minutes. Fold in the chopped walnuts
Spoon the mixture into the muffin cases, filling each about 1/2 full. Place in the pre-heated oven for around 20-25 minutes (approx.) or until risen, golden brown, and springy to touch.
Remove to a wire rack and leave to cool completely. Prepare the buttercream frosting by beating the soft margarine, icing sugar, and cooled coffee together to form a smooth, light frosting. Pipe over the top of each cake using a large star nozzle.
Sprinkle over a few chopped walnuts to finish.
(Makes approx. 12 cakes)