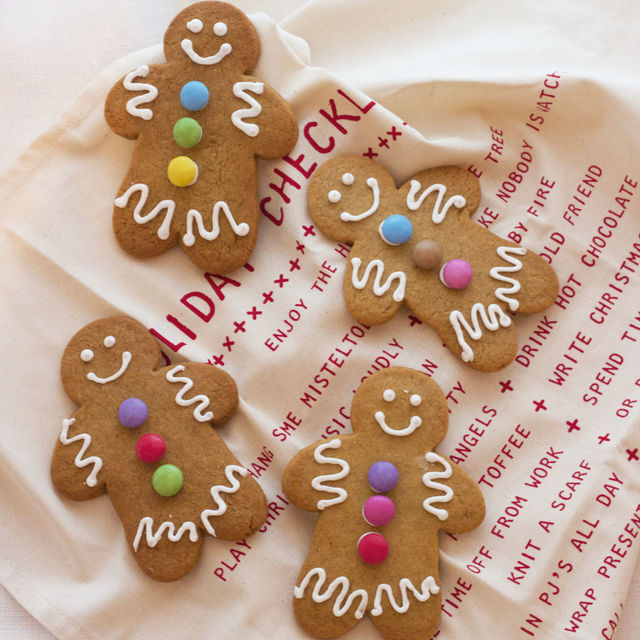 Recipes
Gingerbread Men
Make a start on your festive baking with a batch of our cute gingerbread men. They make the perfect Christmas treat & can be wrapped up to give as gifts.
Ingredients:
100g unsalted butter
85g golden syrup
175g soft light brown sugar
1 tbsp ground ginger
1 tsp ground cinnamon
1/4 tsp ground nutmeg
1/8 tsp ground cloves
1 tsp bicarbonate of soda
350g plain flour
1 medium egg, lightly whisked
For the icing:
250g icing sugar
1 egg white
1/2 tsp lemon juice
Colourful sweets to decorate
Follow The Steps
Place the butter, golden syrup and sugar in a saucepan and stir over a medium heat. Once melted together, cool the mixture for 3-4 minutes
Mix together the spices, bicarbonate of soda and flour in a bowl. Add the melted mixture and the egg and stir to form a sticky dough. Wrap tightly in cling film and chill in the fridge for at least 30 minutes
Preheat the oven to 200degC/180degC fan. Line two large baking sheets with baking parchment. Flour a clean work surface and roll out half the chilled dough to around 0.5cm thickness (working with half the dough at a time makes the job easier)
Using a large gingerbread man cutter, cut out as many shapes as possible. Gather up the scraps, roll again & repeat. Continue until all the dough is used up. You may have more gingerbread men than will fit on two trays, if so bake them in batches.
Bake in the pre-heated oven for around 7 - 8 minutes or until the biscuits are starting to brown at the edges. Remove from the oven, cool the biscuits on the tray for a few minutes then transfer to a wire rack to cool completely
To make the icing, place the icing sugar, egg white and lemon juice in a bowl and mix together gently, then beat for around 2-3 minutes using an electric mixer, until stiff. Add a little water if the icing looks dry or crumbly. Spoon into a piping bag fitted with a small round nozzle.
Pipe eyes, a smiling mouth, buttons etc onto the gingerbread men then finish with colourful sweets. Leave until the icing is set then store in an airtight container.
Makes around 12 gingerbread men.