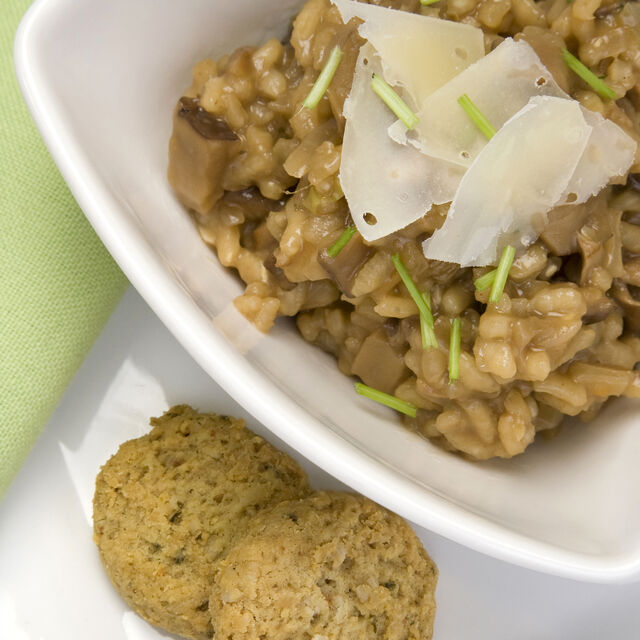 Recipes
Mushroom Risotto
Looking for a tasty, comforting supper dish? Our mushroom risotto is perfect - rich, satisfying & delicious.
Ingredients
30g dried mixed mushrooms
1 tbsp olive oil
1 onion, peeled and finely chopped
1-2 garlic cloves, peeled & crushed
150g Arborio rice
100mls dry white wine
250mls hot vegetable stock
small handful chopped parsley
a knob of butter
salt & freshly ground black pepper
Parmesan shavings
A few snipped chives
Dean's Extra Mature Cheese Bites
Follow The Steps
Soak the mushrooms in boiled water for 20 minutes then drain, reserving about 300mls of the soaking liquor.
Heat the olive oil in a large saute pan - add the chopped onion and cook gently until softened but not browned.
Roughly chop the soaked mushrooms and add to the pan along with the garlic - stir well. Add the rice to the pan and continue to cook gently for a few minutes.
Turn up the heat and add the wine, stirring continuously until the wine is absorbed.
Continue stirring, adding the hot vegetable stock a little at a time followed by the soaking liquor, until the risotto is thick and creamy and the rice is tender with just a little bite to it.
If the rice is a little chalky in the middle, add a little more hot vegetable stock and cook for a couple of minutes longer.
Add the butter and chopped parsley.
Check seasoning.
Serve in warm bowls with a few snipped chives & parmesan shavings sprinkled over.
Add a few Dean's Extra Mature Cheese Bites on the side.
Buy The Products Used
Now you have the knowledge, shop the items that make it a reality