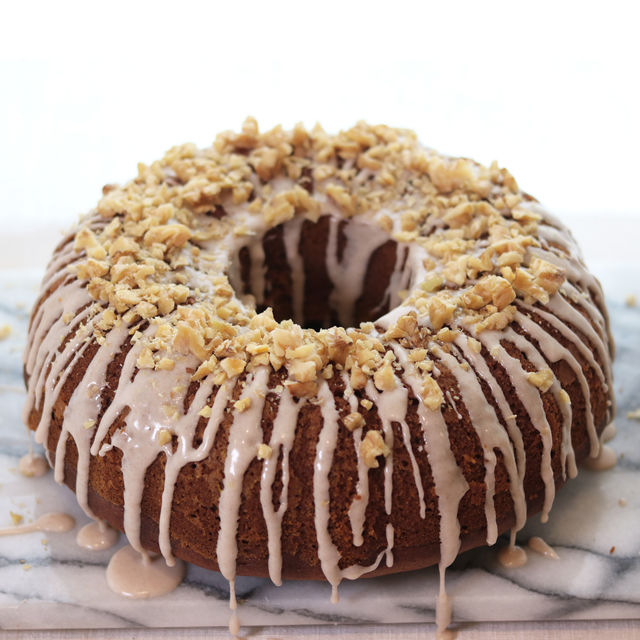 Recipes
Pumpkin Spice Cake
A delicious recipe to kick off October. Our pumpkin cake drizzled with cinnamon icing and served with hot coffee makes the perfect autumn indulgence.
Ingredients:
300g plain flour
300g caster sugar
2 tsp bicarbonate of soda
2 tsp baking powder
1/4 tsp salt
2 tsp ground cinnamon
1/2 tsp ground cloves
1/2 tsp ground nutmeg
1/2 tsp ground ginger
240mls sunflower oil
60g sour cream
1 x 425g can of pumpkin puree (or the same weight of fresh pumpkin cooked, pureed & cooled)
4 medium eggs
100g toasted walnuts, chopped
For the icing drizzle:
125g icing sugar
1/4 tsp ground cinnamon
2 tbsp boiling water
50g toasted walnuts, chopped
Follow The Steps
Preheat the oven to 180degC / 160degC fan. Grease and flour a 23cm bundt tin.
In a bowl, combine the flour, sugar, bicarbonate of soda, baking powder, salt and spices. Set to one side.
In a separate bowl, whisk together the oil, sour cream and pumpkin puree. Add the eggs one at a time making sure to incorporate well between each addition. Add the dry ingredients and carefully mix together until smooth. Fold in the chopped toasted walnuts.
Pour the cake batter into the prepared tin and level the top. Place in the pre-heated oven and bake for an hour until a skewer inserted in the centre comes out clean. Remove from the oven and leave to cool in the tin before inverting onto a wire rack to cool completely.
To make the icing, mix together the icing sugar & cinnamon then add the boiling water (you may need a little extra water to make a runny consistency). Place the cake on a serving plate and drizzle over the icing. Sprinkle over the walnuts to finish.
Cuts into 12 slices.