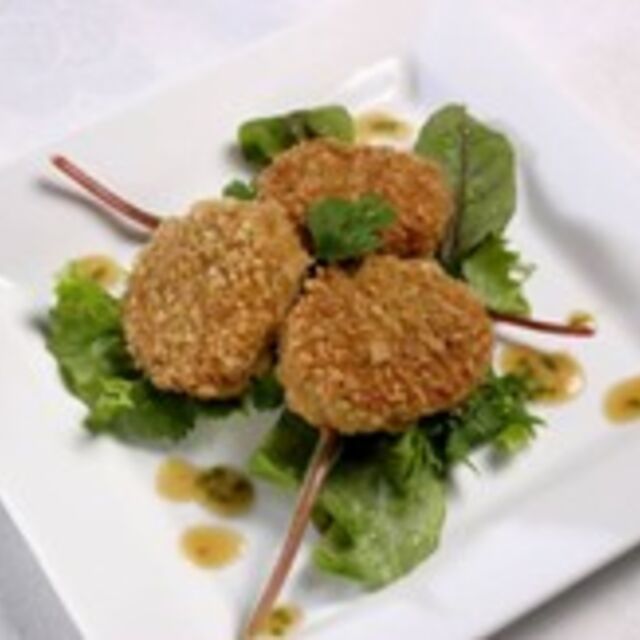 Recipes
Thai Fish Cakes in Oatcake Crumb
These delicious little fish cakes are full of flavour and make a perfect starter. We've suggested using haddock but any white fish will do.
Ingredients
350g haddock (about 2 large fillets), skin and bones removed
zest of 1 lime
1 large clove of garlic
1 inch piece of root ginger, peeled
½ tsp of prepared crushed chillies
100ml creamed coconut (2 sachets)
1 tbsp fresh coriander leaves
salt and freshly ground black pepper
1-2 free range eggs beaten
150g oatcakes, ground into fine crumbs
sunflower oil for frying
For the dressing:
1 tbsp sesame oil
The juice of 3 limes
2 tbsp light soy sauce
1 tbsp coriander leaf, finely chopped
Follow The Steps
Place the lime zest, garlic clove, ginger, chilli, coriander leaf, creamed coconut, pinch of salt and a little freshly ground pepper into the bowl of a food processor, and process to a fine paste.
Chop the haddock into large chunks and add to the food processor. Using the pulse button blend the fish into the paste just until mixed and no more.
Remove the blade from the processor bowl. Take about a teaspoonful of the fish mixture at a time and form into small round cakes. Place the fish cakes on a plate and refrigerate for about an hour.
Remove the chilled fish cakes from the fridge. Dip each one in the beaten egg then coat evenly in the oatcake crumbs.
Pour a covering of sunflower oil into the base of a large, heavy based frying pan, and place over a medium heat. Fry the fishcakes for about 5 minutes each side until golden brown (you may need to do this in several batches). Remove the fishcakes from the pan and place on a plate with absorbent paper. Keep warm in a low oven.
To make the dressing, simply whisk all the ingredients together.
To serve, place a few salad leaves in the centre of each plate. Place three or four fish cakes on top and drizzle over a little dressing.